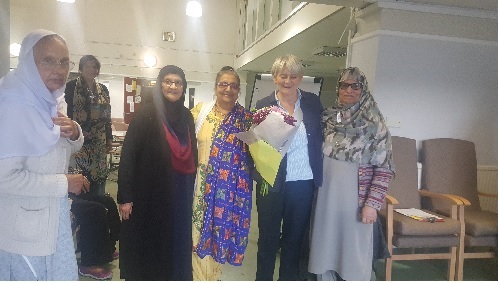 The women had benefitted from this and gained relief from their aches and pains.
Unfortunately Dr Pateson has had to resign from this position due to personal circumstances.
On behalf of all the staff at Dhek Bhal and all the women from the women's group - good luck and best wishes for the future. 
Message from Dr Patterson;
"Dear Zehra and everyone at Dhek Bhal.
Thank you so much for the lovely card you gave me with messages and good wishes from so many of you at the daycentre. Also many thanks for your generous gift, which i am going to spend on a cookery book for indian vegetarian food... so i can cook and remember you all and not miss your lunches too much! 
I am very sorry to be leaving you. I have enjoyed meeting and getting to know so many of you and i have learnt so much from you. I really value your warm friendship and the opportunity to treat many of you with accupuncture.
I will try to keep in touch with you, and please know that you will be in my thoughts"