Feedback from Mens and Womens Daycenter Users:- 
2016
AGM Feedback
 "The transport to and from the venue for the elderly and vulnerable was well organised"
Service User – December 2016
 I thoroughly enjoyed the AGM and am looking forward to the next one"
 Service User – December 2016
Southall Trip Feedback - Womens Group
"Going to Southall in minibus is very helpful because we have got staff who help us to carry things and provide intensive support.  Van can stop near the shops; walking distance is less, which is beneficial to older people who have disability problems in walking. On the other hand Coaches only stay at one place.
We can buy variety of things at bargains prices. All ethnic shopping is available in Southall."
Sara Adam - 2016
  "I feel less isolated when I go out on excursion trips with the elderly women in the mini Bus, who are of my age.  I feel less depressed and enjoy my time very much".
Hajra Bibi - 2016
  "Great company provide by Dhek Bhal Daycentre Staff.  The outing was enjoyable.  We feel safe when we are all together and door to door pick up service is helpful."
Sindhu George - 2016
  "I am a 86 years old woman, when I go to Southall with Dhek Bhal in the minibus, I get great help and support from the Staff.  I am able to buy traditional and cultural things in Southall, which are not available in Bristol"
Sosan Ram - 2016
  "I am an isolated person, when I attend the Day centre, I feel very happy with meeting with my friends on a regular basis.  The staff is very helpful with my needs, my own children don't do for me.
When I feel depressed, staff is always available to hear me-out very supportive and caring.
Dhek Bhal staff always offers good food and good company.  Time flies by very well with enjoyment.
If daycentre was not available, I would feel depressed and isolated, I would feel as if I have nowhere to go, no friends to meet and no one to share my feelings with."
 Sindhumati George -2016
West Midlands Safari Park Trip Feedback - Mens Group 
"Enjoyed the mental stimulation and company of fellow service users. Nice to see animals in their man made environment. Enjoyed the rides and the safari. Volunteers were very helpful"
Tariq Khan - Member of Mens Group
West Midlands Trip - August 2016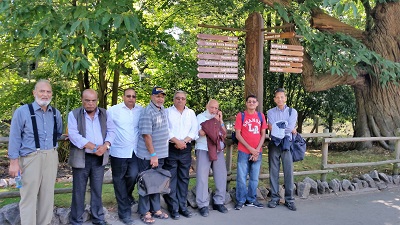 London River Thames Cruise and Southall Trip - August 2016
View the Gallery of photos from the London trip
I have been attending the Dhek Bhal Daycare Centre for 6 weeks now, and would like to take this opportunity to thank you for your help and support. Your calm and caring personality has put me at ease and enabled me to settle into the group. The Daycare Centre is very important to me as it has reduced my sense of loneliness and isolation, and increased my self-confidence. This would not have been possible without your patient support and reassurance. This has helped me to lose my inhibitions and feel comfortable around people again.Rukhsana Parvaz  
Going to Parliament house was a truly fantastic visit and a visit that i will never forget. I really enjoyed the tour and felt it was pitched just right; It was very interesting and informative.Learning the significance of all the rooms - their period and decor, following in her majestys footsteps and seeing the House Of Lords and Commons in all their glory were the highlights for me.  The magnitude of all the history and important decisions that were made within the walls of the building is thouroughly mind blowing. It was so nice to get to know the other trustees and share laughter on the minibus and at Giftos.I felt very priveleged to go and represent Dhek Bhal - Thank you for inviting me - SB