Feedback  
Feedback from jackie Ariffin- " My dear friends at Dhek Bhal. Thank you so much for attending the celebration thanks giving service for my beloved son -Robin on 22nd February 2018. The food you provided was much appreciated by all. There was such a warm and comforting feeling and a true send off for a remarkable person. I hope to meet up with you on a regular basis once i get into a new routine. It has all been such a shock. Best wishes to you all."
Feedback from Jacob from the "Together Research Team": "To Zehra and everyone who took part in the Hope Study. Thank you. Your efforts and contributions were greatly appreciated.Best wishes for the future" 
Feedback from Healthwatch "Food provided by Dhek Bhal is quality home made food, and very flavoursome. Always goes down well!! Proper bristolian style - lush" !!
  "I was a carer drowning in my own emotions and health issues. I would have had a nervous breakdown if Dhek Bhal did not step in and help me. I was not recieving any help or support from Social Services. I was in a very vulnerable position before Dhek Bhal came into my life". Shabir Osman (Carer)
 "To whom it may concern', My grandma is 70 years old. My grandma gets really lonely and she has no one to talk to apart from when she goes on trips.Her friends advised her to go to Dhek Bhal.So she went for one or two days for a trial and when my grandma came back she told us how she made new friends and ate together. She said she felt so much lighter and better when she came home and my grandma wishes she can go to Dhek Bhal every single week.. THANK YOU"
  Feedback from a work experience student:"I am writing to thank you for the weeks work experience you provided last week. I found it a really enjoyable and valuable experience. Thank you again"  Imaan
"Salaam Zehra, Thank you for your kind words. I am sitting with him now and still cannot believe he has left us. It was his time. Papa was suffering a great deal but yesterday he floated away peacefully. harvinder was the most devoted and caring man i have ever met. He had a special relationship with paps and he loved him so much. Please look after harvinder. He is a real asset to Dhek Bhal as are Arif,Naseem, and Shahnaz. Wondeful people who showed paps such love and patience.. may Allah bless them. The burial will take place on Monday or Tuesday. Will let you know. Thanks for your support. I will need to discuss providing my mum with a sitting service as she is very vulnerable. Will call Dhek Bhal on Monday. Thanks"
 "I Mrs Naseem Akhtar who is a carer for my husband Mr Mohammed Arshad. I am writing this letter to Dhek Bhal especially to Zehra Haq to say thank you for your wonderful effort to act as advocate for me whenever I needed sitting service from Dhek Bhal. Whenever I visited my parents in Pakistan, Dhek Bhal provided excellent support and care to my husband. In addition Dhek Bhal provided cultural and language support to my husband and he is relaxed and enjoys the service of Dhek Bhal care workers. I have complete trust and confidence in Dhek Bhal that it will provide same standard of service in the future aswell" - Carer 
 "I am very grateful to Dhek Bhal for supporting caring for my wife who had cancer and sadly died in September 2017.The Care workers gave a lot of practical and emotional support" – Friend of a carer.
 "The catering was fantastic, everbody really enjoyed it and i will be using your services again in the future. The food was outstanding!" - Sandeep Sapr
 AGM Feedback 2017
 "The transport to and from the venue for the elderly and vulnerable was well organised"
Service User – December 2017
 I thoroughly enjoyed the AGM and am looking forward to the next one"
Service User – December 2017
 "My colleague and i were pleased to attend the 2017 Dhek Bhal AGM. it was great to see how well attended the event was by Service users of all ages. Hearing more about the work being undertaken to tackle social isolations and provide care and support within the South Asian community was quite inspiring. We look forward to working with Dhek Bhal over the coming months" - Rose Gray - Avon Fire and Rescue
 "Dear Zehra. Thankyou so much for inviting me to your wonderful AGM. It was a pleasure to meet so many lovely people and take part in your celebration. Very best wishes to you all" Tom Watkins - UBHT
"The Care Forum really values the friendship weve built up with Dhek Bhal over the years - and so it is a pleasure to come to your AGM to find out more about how you are helping people to stay active and well.Its exciting to hear some of the guests talking about day trips and other activities that clearly mean such a lot to them, and we look forward to working with you again soon"  - Morgan Daley (The care forum)
"Many thanks for the invitation to attend the AGM. I really enjoyed the event and it was great to hear all about the work of Dhek Bhal in their 31st year. I was particularly impressed both through the presentations and the event itself at how your service users are always at the centre of everything you do, and great to see so many in attendance.You clearly are a user-led organisation that is doing great work championing the interests of your community. We look forward to continuing to work in partnership with you" - Ruth Richardson (Oasis Talking Therapies)
"The Care Forum really values the friendship wev'e built up with Dhek Bhal over the years - And so it was a pleasure to come to your AGM to find out more about how you are helping people to stay active and well. Its exciting to hear some of the guests talking about day trips and other activities that clearly mean such alot to them and we look forward to working with you again soon" - Morgan Daly (The Care Forum)
Southall Trip Feedback - Womens Group
"Going to Southall in minibus is very helpful because we have got staff who help us to carry things and provide intensive support.  Van can stop near the shops; walking distance is less, which is beneficial to older people who have disability problems in walking. On the other hand Coaches only stay at one place.
We can buy variety of things at bargains prices. All ethnic shopping is available in Southall."
Sara Adam - 2016
  "I feel less isolated when I go out on excursion trips with the elderly women in the mini Bus, who are of my age.  I feel less depressed and enjoy my time very much".
Hajra Bibi - 2016
  "Great company provide by Dhek Bhal Daycentre Staff.  The outing was enjoyable.  We feel safe when we are all together and door to door pick up service is helpful."
Sindhu George - 2016
  "I am a 86 years old woman, when I go to Southall with Dhek Bhal in the minibus, I get great help and support from the Staff.  I am able to buy traditional and cultural things in Southall, which are not available in Bristol"
Sosan Ram - 2016
  "I am an isolated person, when I attend the Day centre, I feel very happy with meeting with my friends on a regular basis.  The staff is very helpful with my needs, my own children don't do for me.
When I feel depressed, staff is always available to hear me-out very supportive and caring.
Dhek Bhal staff always offers good food and good company.  Time flies by very well with enjoyment.
If daycentre was not available, I would feel depressed and isolated, I would feel as if I have nowhere to go, no friends to meet and no one to share my feelings with."  Sindhumati George -2016
 West Midlands Safari Park Trip Feedback - Mens Group 
"Enjoyed the mental stimulation and company of fellow service users. Nice to see animals in their man made environment. Enjoyed the rides and the safari. Volunteers were very helpful" Tariq Khan - Member of Mens Group
West Midlands Trip - August 2016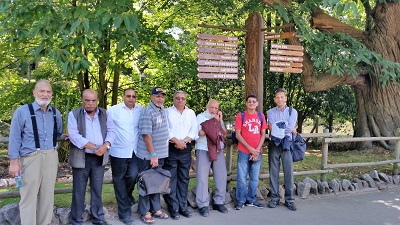 London River Thames Cruise and Southall Trip - August 2016
View the Gallery of photos from the London trip
"I have been attending the Dhek Bhal Daycare Centre for 6 weeks now, and would like to take this opportunity to thank you for your help and support. Your calm and caring personality has put me at ease and enabled me to settle into the group. The Daycare Centre is very important to me as it has reduced my sense of loneliness and isolation, and increased my self-confidence. This would not have been possible without your patient support and reassurance. This has helped me to lose my inhibitions and feel comfortable around people again".Rukhsana Parvaz  
"Going to Parliament house was a truly fantastic visit and a visit that i will never forget. I really enjoyed the tour and felt it was pitched just right; It was very interesting and informative.Learning the significance of all the rooms - their period and decor, following in her majestys footsteps and seeing the House Of Lords and Commons in all their glory were the highlights for me.  The magnitude of all the history and important decisions that were made within the walls of the building is thouroughly mind blowing. It was so nice to get to know the other trustees and share laughter on the minibus and at Giftos.I felt very priveleged to go and represent Dhek Bhal - Thank you for inviting me" - SB